Principal Engineers
Arthur Tyndall Principal Engineer, Director, BE, FIPENZ, CPEng
(see resume)


Noel Hanham Principal Engineer, Director, BE (Hons.), FIPENZ
(see resume)
Management & Procedures
The directors of Tyndall and Hanham Ltd are responsible for all business related issues as well as supervising all the design work done before being sent out of the office. Engineers supervise the Draughting Department for all drawing related jobs.
Tyndall and Hanham always maintain the highest standards of work through internal quality control procedures. As a member of Association of Consulting Engineers New Zealand (ACENZ), we are required to have a Quality Control System to ensure quality services to all our clients.
Health & Safety
We are committed to protection of our employees, property and other parties from any accidental injury or damage from work carried out by, and on behalf of the business. We adopt health, safety and welfare as a fundamental business objective.
We are endeavour to comply with all legislative requirements and take all practicable steps to:
Provide a safe place to work, safe equipment and proper materials.
Establish and insist that safe work methods are practised at all times
Provide supervision and training
Ensure employees and other parties understand and accept their responsibilities to promote a safe and healthy place to work.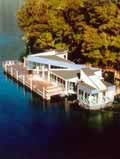 Milford Observatory