(i) Healthcare Projects Experience
1. Rita Angus Retirement Village , Wellington (2000-2003)
Total Project Value : 20 million dollars (estimated)
Client : Rita Angus Retirement Village, Ryman Healthcare Ltd
Total floor area : 19217.27m 2
Tyndall & Hanham was the main Structural Engineering Consultant looking after all the structural design issues.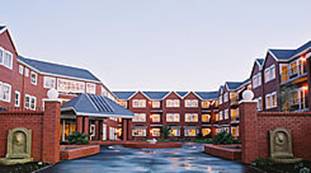 Rita Angus Retirement Village opened in March 2001. The site is located in Coutts Street , close to the main shopping area of Kilbirnie.
This project is divided into 5 stages, with stage 5 is currently under construction. Each stage consists of three storey buildings with a basement. The buildings are constructed with precast walls and precast slabs throughout.
The village has been designed in a "terraced housing" style in keeping with the historic nature of the buildings in the area. The village is owned by Rita Angus Retirement Village Ltd, which is a subsidiary of Ryman Healthcare Limited.
The facilities being developed include: Independent apartments with backup assistance, Serviced studio units with care provided to suit the needs of the resident, a resthome and a hospital. All rooms are ensuite with shower.

2. New Operating Theatre, Nelson Hospital (1998)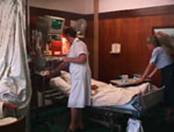 Total Project Value : 1 million dollars (estimated)
Client : Nelson Hospital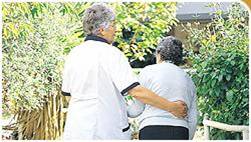 Churchill Court, Anglican Aged Care Christchurch
Description : Special care for severely demented patients in need of a high level of attention and security. 20 bedrooms.
4. Canterbury Health Board
Projects :
(a) Christchurch Womens Hospital BOC Gases Installation
(b) Christchurch Hospital BOC Installation
(c) Burwood Hospital opening on walls
(d) Kitchen Block, Hillmorton Hospital
(e) Boiler Room, Princess Margaret Hospital
Client : St Winifreds Resthome, Christchurch
Client : St Joans Trust
Description : 35 Bed Wing Building Extension and New Laundry facility for St Joans Hospital Hamilton.
---
1. Rhodes St – Carton Mill Rd (2002)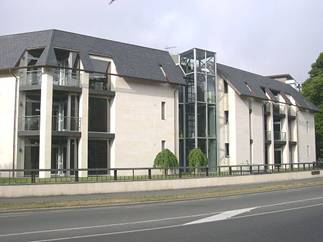 - 3 Storey Omaru Veneer Apartments with underground carpark
- Award winning apartment 2002
2. Peterborough St Apartments (1996)
- Award winning 7 Storey Apartment Block near Hagley Park
3. Sumner Apartments (1998)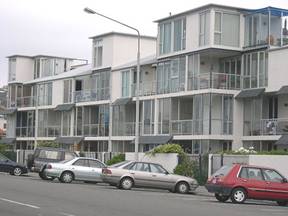 Series of 3 storey award winning apartments along the forefront of Summer Beach
4. St Marys Apartments (1998)
- Seventy apartments in a series of blocks with height varying between two, three and four storeys over an underground basement. The structure of the comprises concrete masonry walls with composite steel/concrete floor systems. The structure of underground carpark structure is a combination of insitu concrete, concrete masonry and precast concrete elements.
5. Marine Parade Apartments (1998)
6. Ranfury Street Residential Units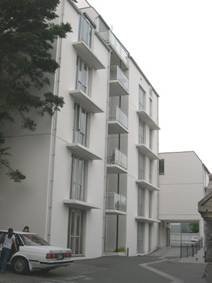 9. 71 Carton Mill Rd Apartment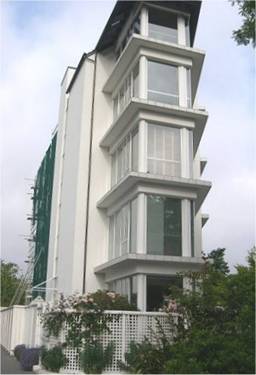 - 5-storey apartment building with a basement
10. 69 Carton Mill Rd Apartments (1995)
- Seven units of 3-storey apartment buildings
11. Chester St Apartments (1996)
- 3-storey apartment building
---
- 7 storey high building on Cambridge Tce
i2. Christchurch Telecom Directories Building

- 6 storey building on Kilmore Street
3. 316 Kilmore St Office Building

- 5 storey building on Kilmore Street
4. Colombo-Dundas St Office Building
- New 2 storey Building (approx. 4000m2) and Strengthening of existing 4 storey building adjacent to the new building– Currently under construction

---
(iv) Special Purposes Structures
1. Nevis Highwire Bungy – AJ Hackett Queenstown (2000)

The Nevis Highwire Bungy is 134 metres high, (440 feet). Purpose designed and built purely for bungy jumping with 30 different patents this award winning structure has to be seen to be believed.

The jump pod is suspended by high-tension wires that span 380 metres across the Nevis River. Access is by cable car for jumpers and spectators alike.
The Nevis Highwire Bungy is the same height as the top of Sydney Harbour Bridge at 134m. Jumpers travel in excess of 128kmph. The Nevis Highwire Bungy is situated on a private high country sheep station. The only access to the site is by AJ Hackett Bungy 4WD. This is the highest Bungy jump in Australasia .
Tyndall and Hanham Ltd won a Gold Medal Award from The Association of Consulting Engineers New Zealand (ACENZ) in 2000.

2. Milford Underwater Observatory (1997)

This is a three and one half storey underwater viewing room able to accommodate 70 people around twenty four windows to view the rare black and pink corals, marine life and sponges found in the World Heritage Park of Fiordland.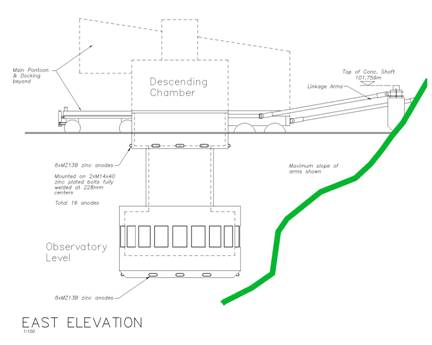 The structure is floating rather than fixed to the seabed being secured in place by hanging arms anchored onto adjacent rock walls. Accessed by boat, the platform itself is divided into an above surface reception/visitor information centre, capable of holding up to 200 people and the 20m high vertical circular observation tower weighing 450 tonnes.
Tyndall and Hanham Ltd won Gold Medal Award from The Association of Consulting Engineer New Zealand (ACENZ) in 1997.

Skywire TM is the only ride of its type in the world; unique & innovative!"
Adventure seekers are strapped onto a high tech 4-chair carriage, which is launched 1.6km (1 mile) over and back, high above a native forest valley. Riders can reach speeds of up to 100 kph(60 mph) on an endless cable dropping 150 metres - similar in principle to an extreme high-speed ski lift.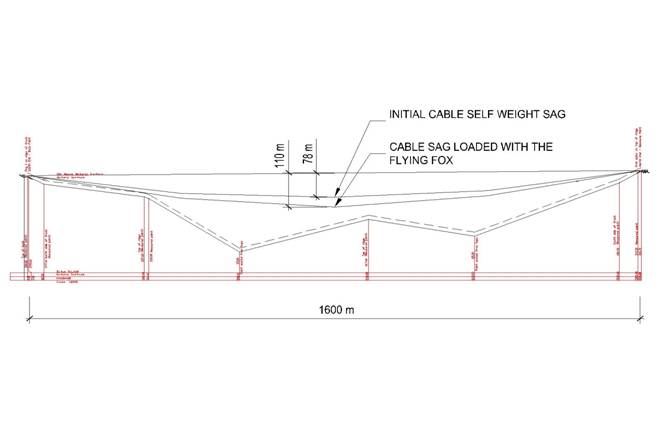 To begin the adventure participants will journey through bush trails to the terminal site that offers magnificent views over Tasman Bay . The backdrop panorama of the Abel Tasman and Kahurangi National Parks with the Tasman Ranges ( Lord of the Rings mountains ) creates a scene to rival the best New Zealand has to offer.
4. Auckland Harbour Bridge Bungy - AJ Hackett (2003)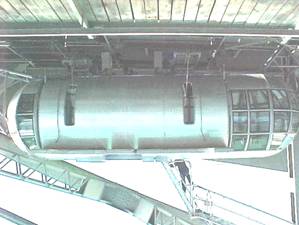 The Auckland Harbour Bridge became a bungy jumping site from April 2003 after four years of planning and consent processes.
The bungy site is located under the road deck of the bridge in the main navigation span where a state-of-the-art jump pod has been installed. Jumpers pay $125 to leap from the pod towards the western side of the harbour and are winched back up into the pod using patented retrieval system technology developed by AJ Hackett Bungy in New Zealand.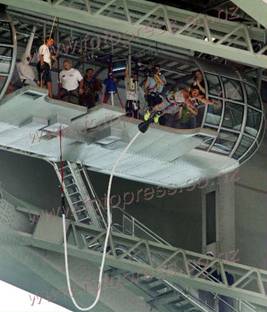 Negotiation, planning and consent processes for the bungy site have spanned four years in alliance with Transit New Zealand, ARC and consultation with yacht clubs and the Harbour Master and other concerned parties.
The Auckland site is the first AJ Hackett bungy operation in the North Island as well as being the only bungy jump in the Auckland region.
5. Kawarau Building – AJ Hackett Bungy Queenstown (2003)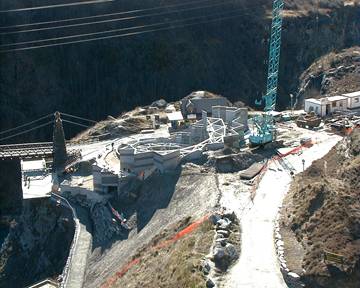 The new eight million dollar development at the World's Original Bungy site, the Kawarau Bridge in Queenstown, New Zealand will be the home for the AJ Hackett Bungy.
The structure building is built under the ground, consists of a steel spiral walkway running around the multi media theatre dome from the top down to the viewing platform level offering spectacular view to the Kawarau Bridge Bungy.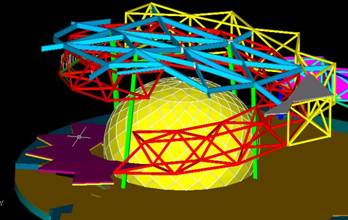 The multi media theatre experience, known as Bungy Dome, is aimed to capture the emotional and intellectual journey of the jump, and will be the central theme for the ecologically designed building.
The building will also house a cafe and bar, retail clothing (including the AJ Gear outdoor brand), bungy museum, interactive displays and story panels.
Tyndall and Hanham Ltd won Gold Medal Award from The Association of Consulting Engineers New Zealand (ACENZ) in August 2004.


(return to top)